Designing the space of the laundry room:
The design of the laundry space means deciding on the flooring, the color of the walls, the location of the window and the door and the method of providing lighting. There is definitely moisture in this room during the work and it is possible to splash water and detergent. Therefore, you should use flooring that is waterproof and has good resistance to heat and moisture.
Ceramic and stone flooring are good options. Of course, you should also consider the possibility of slipping and try to use dentin materials that prevent slipping to some extent.
You can use your kitchen cabinet design. There is no need to coordinate between kitchen cabinets and bathrooms and laundry rooms, but it can create a certain monotony and intimacy in your home. If you have used a modern and glamorous style in your kitchen, it is better to use the same style here ‌‌.
White Color can also make the pulse of peace beat in this room. The use of this color, gives a sense of tenderness to this room.
Undoubtedly, this room needs proper ventilation to remove moisture. Having large windows and doors with glass frames, in addition to creating optimal ventilation, also provides the light needed for this room. Of course, you can also use very attractive lighting in this room and dream of a space.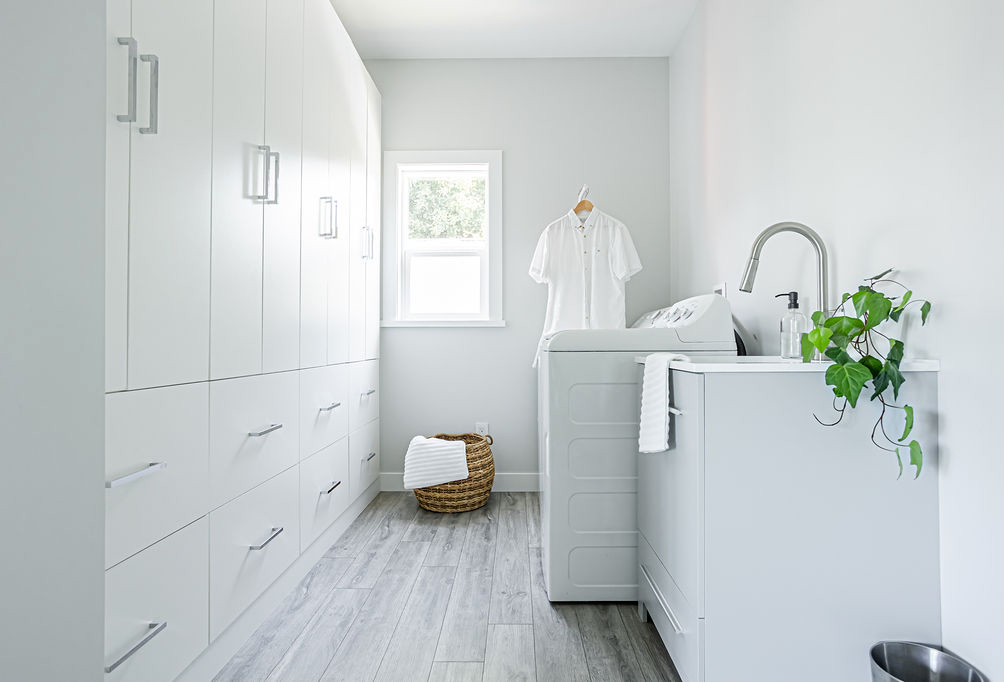 A laundry room with towel cabinet
Design of special cabinets for this room:
It is better to choose the material for the cabinets of this room which are not damaged by steam and moisture. In the past, metal cabinets were used in this room due to their low price and good resistance. But today, with the development of the cabinet industry, people prefer to use new materials that are both durable and have a stunning beauty. One of these good materials which has many fans is wood. A variety of oak and cherry wood with red and yellow color create a pleasant appearance. In designing a modern laundry room, if you have enough space, you can use minimalist furniture.
Wall cabinets in a variety of models can be used on the walls. Also, in case of lack of floor space, it is possible to create tower cabinets that have several floors and occupy little floor space. Determining the depth of the cabinets is done according to the tools you want to put in the holes. Dynasty cabinet designers and engineers carefully examine your wishes in all stages of work and with their special professional and organizational skills, they will deliver the laundry room to you with original Canadian cabinets beyond your imagination. Tasteful designers of Dynasty cabinet company in some of the projects they have done, in the counter and work desk, have used a variety of marble and granite stones and the customers were got very excited after seeing them.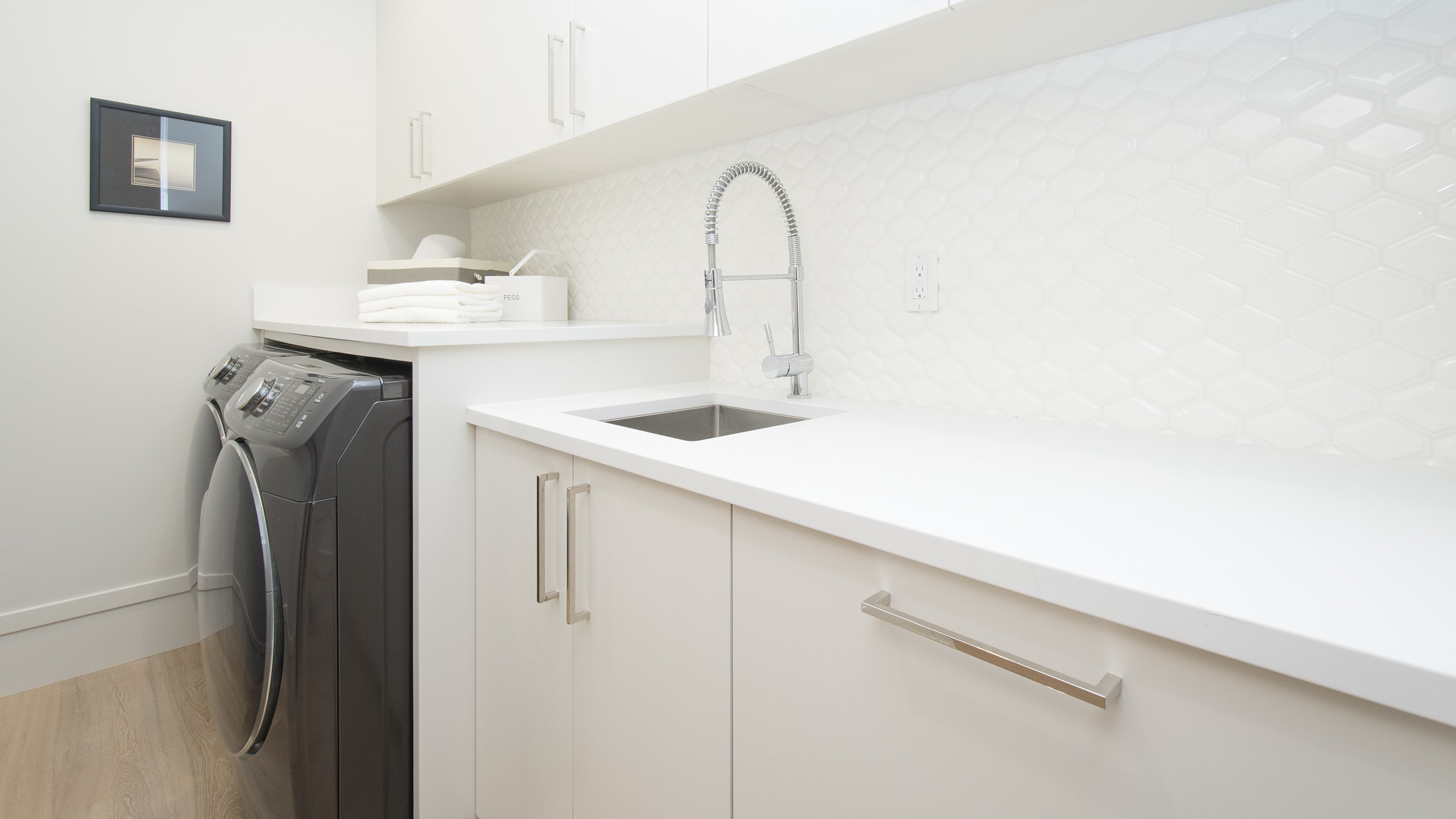 laundry room with cabinets and sink
Renovation of the laundry room:
For various reasons, you may need to renovate the laundry room. For example, your cabinets may be old and you want to replace or cover them. Also, buying a new washing machine with a different size can be another motivation for this development. However, the idea of ​​renovation is always exciting. Changing the floor, changing the size and model of the door and window, connecting the laundry room to the backyard can all be the reasons for renovating the laundry room. By spending money and time to renovate the laundry room, you can upgrade your home and have a more comfortable and enjoyable life.
Executing trendy styles in your home
We are proud to be one of the best and most professional interior design groups in Canada. By entrusting our experts, you can benefit from the best kitchen designs with the highest efficiency and specific architectural styles. Our services related to kitchen renovation, designing the style and structure of cabinets, design and renovation laundry room, TV room design and etc., are based on daily trends and with special attention to customer's preferences and requests. We are proud that our zero to hundred work materials are fully Canadian that no part of the job relies on import.