The importance of kitchen design:
The kitchen is actually a place for the whole family. A place for cooking, eating, talking, laughing and even doing some daily chores. On the other hand, kitchens have been open for many years and have become the focus of attention in homes. Therefore, this very popular place should have a high level of performance and creating a balance between beautiful appearance and practicality is a complex task. This is why we should use modern kitchen design and we need specialists and interior designers when building a new kitchen or renovating our existing kitchen, which is now about to retire. Our specialists in Dynasty kitchen cabinets design a fully functional and beautiful kitchen for you according to basic topics in interior design and your favorite lifestyle, habits and style.
The most important element of the kitchen:
Perhaps it can be said that the most important elements in any custom kitchen design are the cabinets. In fact, when you hear the words kitchen design, the first things that come to mind are kitchen cabinets. Kitchen cabinets are among the items that have many options to choose from, such as material, color, depth and size, physical shape and much more. But this element can affect the choice of other elements in the kitchen and even determine the style of the kitchen. Today, most people tend to use modern kitchens. For this reason, in the following sections, information about modern kitchen design and the features of its cabinet are given. If you are interested in having information about the latest technologies and equipment available for modern kitchen design, join us.
Cabinets without handles in modern kitchen design:
In modern kitchens, we try to design a simpler kitchen environment. In these kitchens, handles are often not used in the construction of cabinets. By removing the cabinet handles, the kitchen space becomes more uniform. How to open these cabinets without handles? In some of these cabinets, there are recesses in the door that are used. Others are mechanical and can be opened in the cabinet with a little pressure using a spring inside; Of course, in this model, one of the problems is the fingerprint on the cabinets, and even in cases where you are cooking, some of your cabinets may be contaminated with food.
In the more modern mode, the cabinet doors are equipped with electric sensors and cabinet doors open when you put your hand in front of the sensor, which is really enjoyable. These types of cabinets consume very little electricity. On some models there is very little delay in opening the door.
3D kitchen design:
The very good news is that you can see your kitchen before you start working and before consuming any cost, and consult with your family and friends and change parts of it if necessary. Fortunately the use of design and modeling software in kitchen design has also opened its place and you can use these software to view different models in your kitchen with just a few clicks and find the most appropriate style and model.
Professional designers of  Dynasty Company will also help you at this stage. They measure your kitchen and offer you several different designs depending on the size of the kitchen, the location of the walls and doors and windows and your wishes so you can select a design that is more efficient and in accordance with your dream kitchen. You can want your truly Canadian cabinet from Dynasty Company.
In designing the kitchen with the software, you can choose different models of cabinets, island, sink, floor, electrical connection and so on.
By clicking the mouse, you can easily change the location of various appliances, for example, move the stove and find the most suitable place for it. This is really amazing.
More space in the kitchen: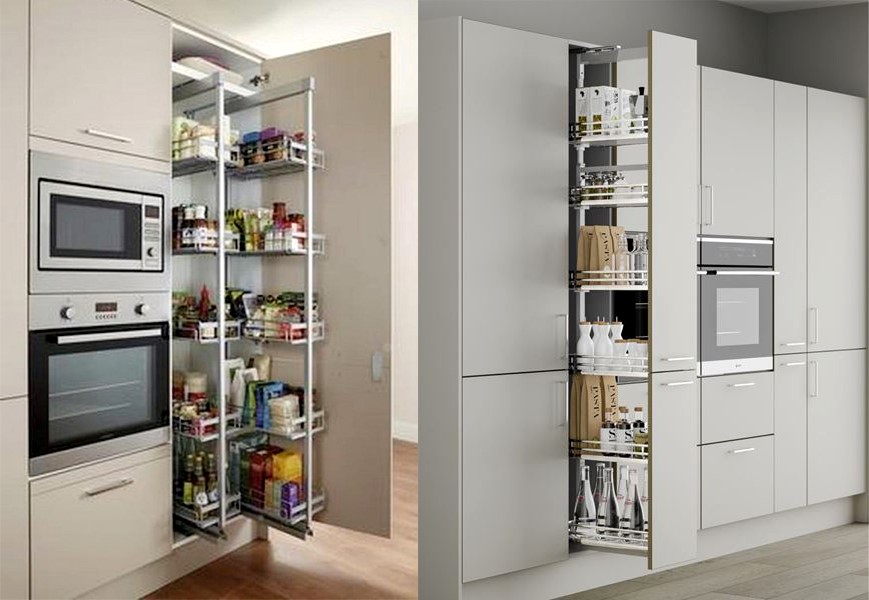 A big larder cabinet
When designing the kitchen, it is better to try to consider enough space to store food. On the other hand, you may not like the crowded kitchen. In such cases, the creative designers of Dynasty Company suggest you to use one of the following options:
Create a room connected to the kitchen if you have enough space:
You can fill this auxiliary room with drawers and floors. You can assign several floors to your drinks and from now on you can find your favorite drink with just a quick glance. Boxes of fruit, potatoes and whatever you like can be stored in this room without any worries. You can even keep your old and lovely refrigerator that has been your friend for years.
Using Larder cabinets in the modern kitchen design:
These types of cabinets are similar in appearance to other kitchen cabinets. But when you open them, you are faced with a new set of cabinets and smaller drawers. In fact, these cabinets are a cover for many other cabinets.
Countertops:
Workbenches are very important options in any kitchen. The choice of desk is made according to individual habits and different demands affect its selection. These tables are probably used every day for cutting, preparing, cooking and serving; therefore, ease of maintenance and resistance are very important. For interior designers, desks are valuable elements that can determine the character of the kitchen. Modern kitchens usually use materials such as stone and metal or even wood, each of which has its own characteristics and beauty. A glossy steel countertop can add a special charm to your kitchen, or a marble or granite countertop can complement your modern kitchen design. The use of woods such as spruce and oak also has its own special effect.
In some of the designs done by professional designers and artists of Dynasty Company, Double Islands have been placed in the kitchen and the available counter space has been greatly increased. The use of hanging lights on these double islands makes the kitchen look very eye-catching and unique.
Walls between work desks and cabinets: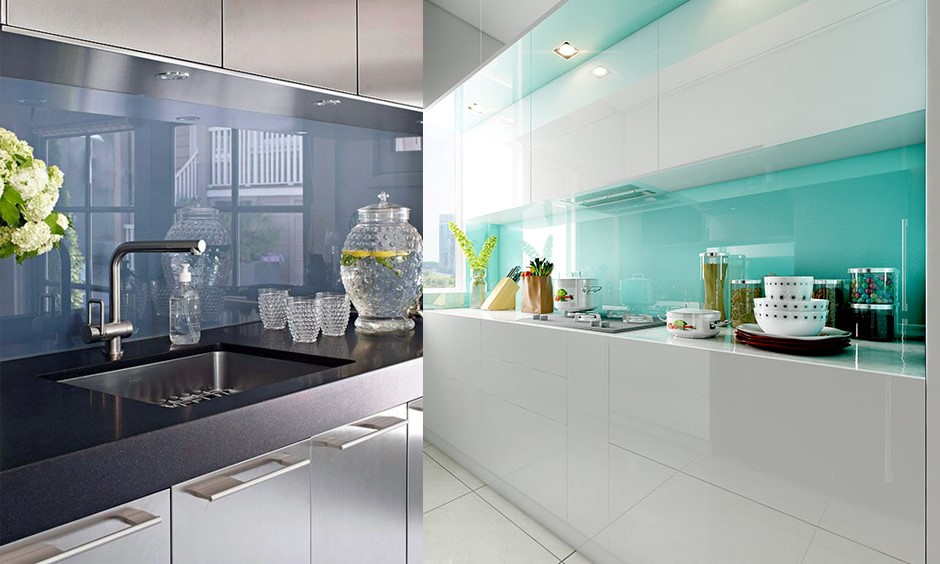 Covered wall by painted or color glass
In the past, different types of tiles were often used to cover the walls that existed in the space between the desk and cabinets. But in today's modern kitchen design, tiles are no longer the only consumables in these areas. Patterned glass, wood, melamine, artificial stones, etc. may be used in these parts to create beautiful views that you have never seen before.
Also, in some parts of these walls, beautiful hooks may be installed to hang items such as knives or shelves for storing spice containers, making your kitchen more functional.