The importance of kitchen and bathroom remodeling:
The kitchen and bathroom are the two basic points in any home. These two places are actually used in abundance and not every house can be complete without them. These two places are used by family members or our formal and informal guests over and over again during the day and night, so the kitchen and bathroom design has particular importance.
Nothing like taking a shower early in the morning can refresh your mood and prepare you for daily activities. The kitchen may be one of the first places we go to after bathing and we like to have breakfast in its beautiful environment. Also, kitchen and bathroom design has a great impact on the beauty and luxury of the house. Today, houses are designed in such a way that when a person enters the house, the kitchen quickly shows itself and can have a significant impact on the beauty and comfort of a house.
Remodeling your kitchen can be an enjoyable process that lets you show off your inner interior designer.
Changing your kitchen and bathroom design and renovating them:
If your kitchen and bathroom design is old and no longer to your liking, or you feel you can use the space in them more usefully, it is time to renovate the design. You may have to put up with the dust and carvings of making changes for a while to remodel your kitchen and bathroom design, but it will definitely be worth it.
To do this, it is better to get help from an expert interior designer from Dynasty Kitchen Cabinet; We can give you useful tips on how to change kitchen and bathroom design. You can make fundamental changes or just change some parts.
Choosing a new style for the kitchen and bathroom:
In making general changes in the design of the kitchen and bathroom, you may want to completely change the existing style. There are many styles to choose from, each with its own merits. What is important is to choose a style that matches the interior design of other parts of your home and your furniture. You may have used an Asian style before and now prefer a modern style. In this case you have to change almost all the parts. From flooring and kitchen cabinets to kitchen island. Another point that is important in the reconstruction process is to pay attention to the amount of money that you have planned for this work.
If you want to do the renovation at a lower cost, be sure to discuss this with your interior designer, to change only some parts if possible.
Some methods of kitchen renovation: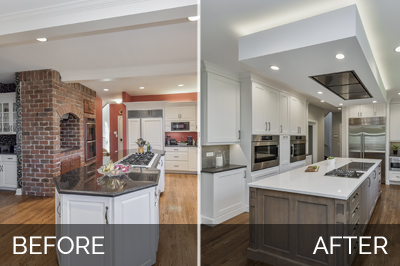 Remodeling the Kitchen
To make a change in the kitchen, you should thoroughly examine your kitchen and find practical and visual defects of different parts. There are many ideas for kitchen remodeling. For example, the number of cabinets in the kitchen design may not be enough for you, in which case you can order another number of cabinets depending on the color and material of your cabinets. Of course, you can also use contrasting colors that increase the appeal of the work; For example, if your current cabinets are white, using black will create a good contrast.
Cabinet doors may not open and close properly, in which case you will need to replace the hinges and levers. You can also change the opening mode of the doors. You may want to modernize your space by using sliding models without handles. Or you can even change the color of the doors.
One of the basic parts of the kitchen that has a great impact on its appearance is the floor and wall tiles. Kitchen flooring should be of good quality that can withstand excessive washing and the weight of objects and not wear out. Using floors with neutral colors such as gray can provide the background to highlight other parts.
Tiles between cabinets may be old, one of the main things that can be changed to make the kitchen look stylish and modern is the tiles on the walls. You replace the old tiles with shiny artificial stones and give a very luxurious look to your kitchen.
You can even fix the kitchen counter and replace it with a beautiful floating island in the center of the kitchen.
Some methods of bathroom renovation: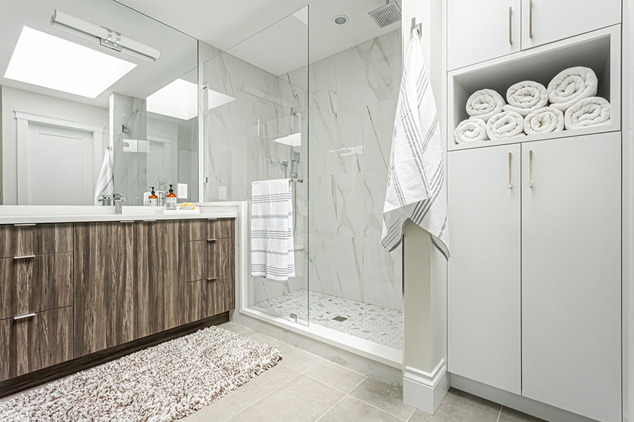 A Remodeled Bathroom
Bathroom remodeling should be done simultaneously with the kitchen remodeling and the same style should be used in these two places. If you have a modern kitchen design, you can also have a modern bathroom design with bright colors. Today, baths are not only used for washing the body, and usually baths are larger in size and more luxurious in appearance.
Taps used in kitchen and bathroom design should have the same brand and color. Also, wall and floor tiles can be matched in terms of material and color to the materials used in the kitchen. To modernize your bathroom, you can equip it with a shower cabin, which can also be water repellent, and you no longer have to worry about cleaning water stains on the cabin. There are also very luxurious bathtubs that have durable materials. They are shiny and very smooth.
If you have enough space, you can also create a beautiful sauna in a part of your bathroom. Replacing windows and changing bathroom lighting is also a great idea for remodeling.
It is better to place a special cabinet in the entrance hall of the bathroom to place your towels and toiletries. This method eliminates the possibility of growth and multiplication of fungi and germs on the towels due to the humidity of the bath.
Also, in the process of renovating the bathroom, if there is enough space in the bedrooms, you can ask the interior designers of Dynasty Company to consider the bathroom connected to the bedroom for you. Having a bathroom in the bedroom can bring you a lot of comfort.
Our organizational goal at Dynasty Kitchen Cabinet is to do the best kitchen and bathroom design for you with your cooperation.
In this company, we are always looking at kitchen and bathroom design in new and practical styles. In the process of designing and renovating your kitchen and bathroom, we will provide you with completely custom and special designs. Designs that are truly unique and surprise you. In the implementation stage we use first-class Canadian materials for you which have a special durability and beauty.