The kitchen countertop, whether in modern designs or other custom kitchen designs, is the most important part. In other words, it is the heart of the kitchen, a part that attracts all attention. So it is not surprising that people spend a lot of time finding the best material and design that suits their kitchen cabinet and the whole interior design. That is why we are going to introduce some countertops trends in 2022 to help you make the best choice.
Material choices for countertop design
When it comes to designing kitchen countertops, you face a range of different materials that confuse you. In this case, you had better use an expert's advice. Dynasty Kitchen Cabinet team will help you to bring out the best in your kitchen. First, designers listen carefully to your wants and give you the necessary guides and advice. In the next step, they apply your opinion as well as their creativity to the design plan. Building the kitchen of your dreams is the next step. And in the end, the project is over by installing the cabinets in less time but with the highest quality.
Depending on what style you prefer for your kitchen, you can choose one of the below materials.
Bold Marble
Marble has always been a great choice for classic kitchen countertop designs. The feature of bold black lines through the white field, in combination with black cabinets, makes a perfect classic kitchen design. Despite its high price, this material is still very popular. Marble is never out of date and is at the top of the countertop design trends list.
Quartz
If you are a fan of natural stones but can not afford marble, maybe quartz is a better choice for you. Although it looks less luxurious, it is much more functional. Its hardness is more than marble, so it doesn't absorb liquids. Compared to granite, quartz is more resistant to cracks, scratches, and dents. Cleaning a quartz kitchen countertop is also much easier. Quartz has a variety of patterns and colors, which matches well with any classic design. With all these advantages, quartz countertop is one of this year's trends.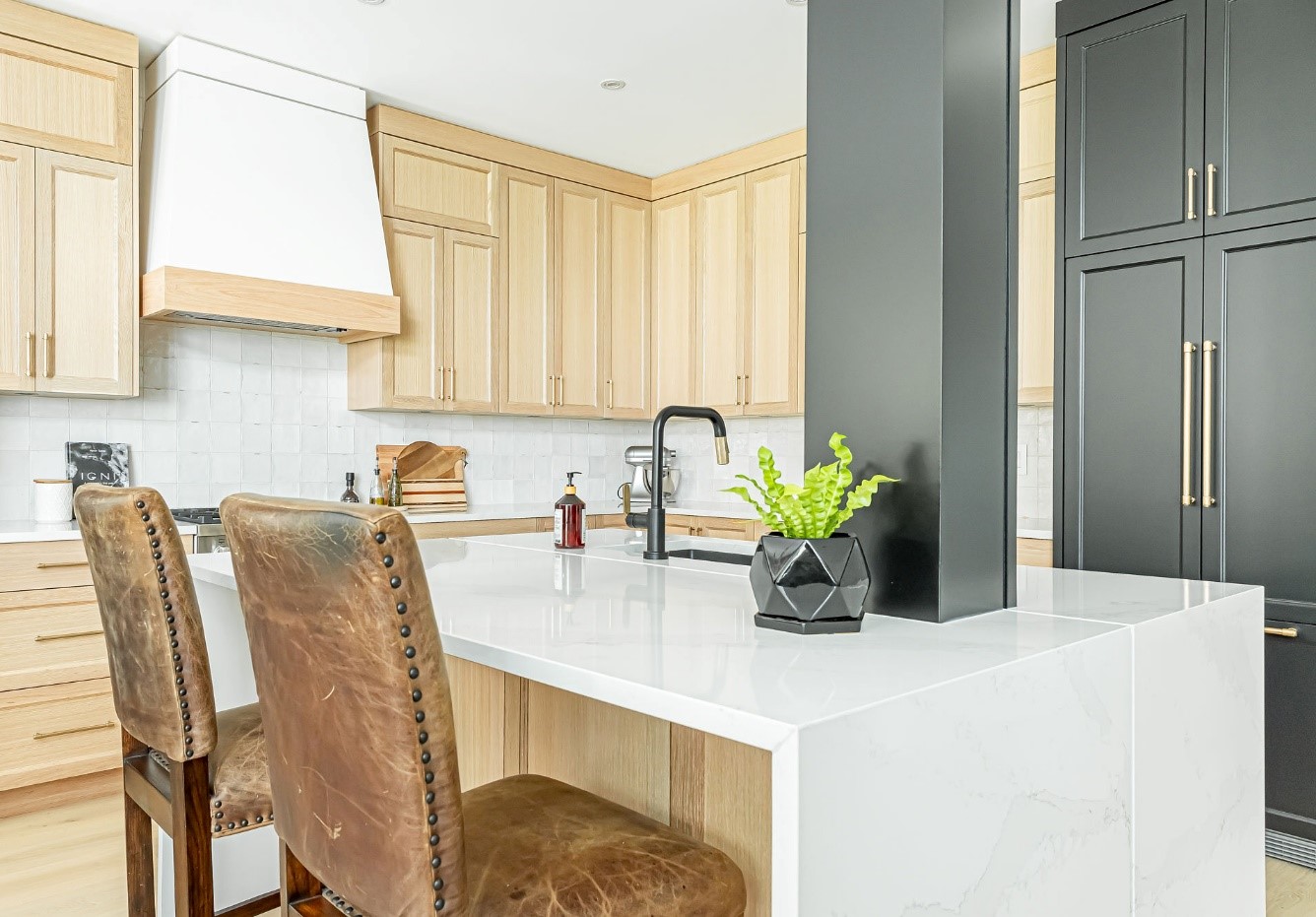 Marble kitchen countertop
Wood (Butcher Block)
Wood is the main element in traditional and custom kitchen design. Traditional wooden countertops served as butcher blocks. But today's wooden countertops are used more for the warm and organic look that they give to the kitchen. The combination of wood and other classic elements can create a modern style. Wood also can absorb noises, so you will experience quiet cooking. Kitchen designs with wooden top islands or top bars are trendy these days.
Metal
Metal kitchen countertops are usually seen in restaurants' kitchens. But today, creative designers use stainless steel or copper to provide a real modern kitchen design. These materials have many benefits besides their glamorous features. They are resistant to liquid, stain, and even heat. No liquid or bacteria can penetrate through them, and heat can not cause cracks. They are durable and can be used for years without damage.
Ideas for designing kitchen countertops
Now that you have learned what materials are trendy to use for kitchen countertops, it is time to choose your countertop design. Dynasty Kitchen Cabinet company, with trained designers aware of the latest kitchen design trends in the market, is the best choice. We've been designing and manufacturing kitchen cabinetry for over 30 years, in Canada and always have our customers' satisfaction.
In the following parts, you will find two popular models which seem to be trending these days.
Model 1: Waterfall Edge countertop
In custom countertop designs, the top edge usually is flat. But In waterfall edge design, the top edge falls like a waterfall, instead of leveling off. Today, people tend to use this design rather than flat plane countertops. So it seems that waterfall edge design is trending this year.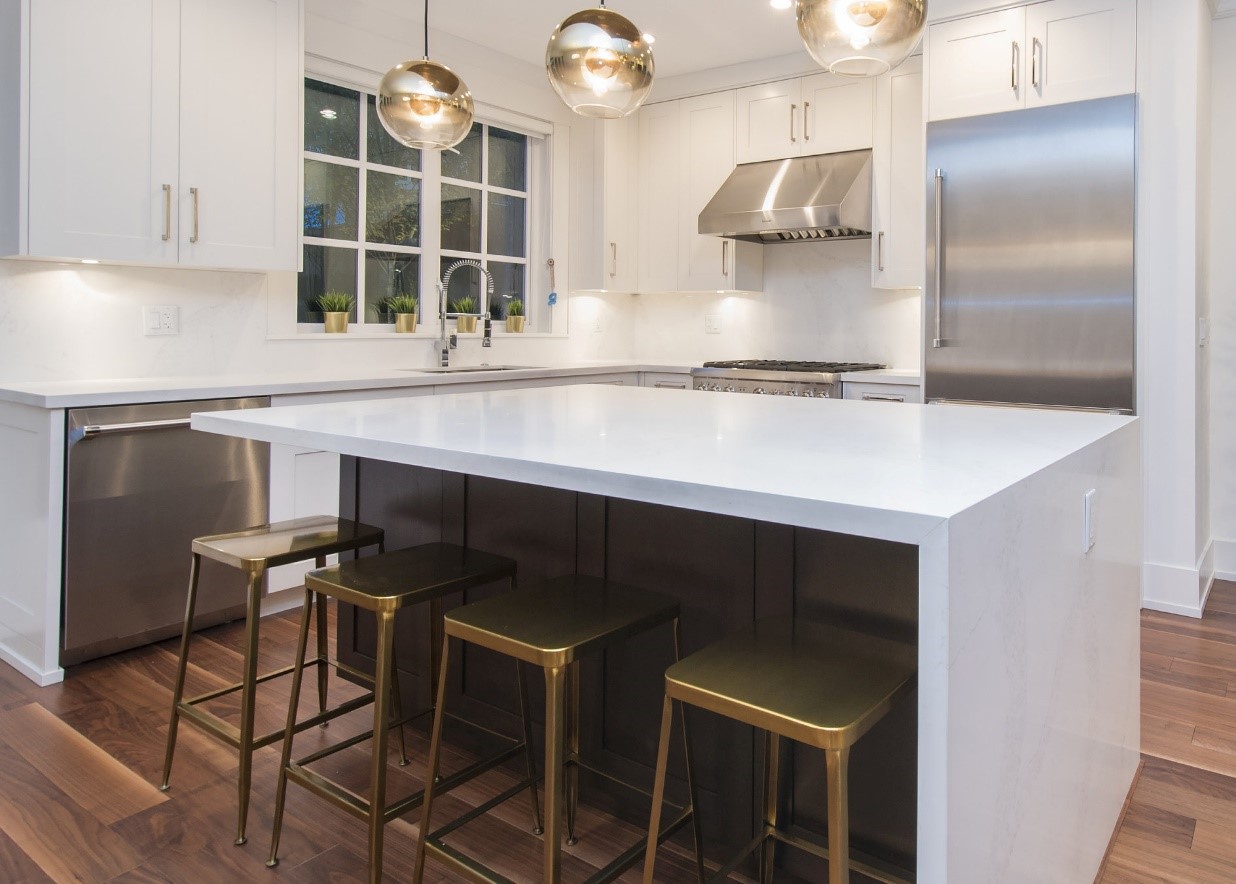 Waterfall edge countertop design
Model 2: Illuminated countertop
An illuminated countertop is another attractive kitchen countertop design that is the newest trend. This model is great for people who like to cook in front of others. The LEDs, at night, emit a dimmable light that gives a brilliant look to the kitchen and things around it. This design has made a great change in the countertop design.
Countertop design, Conclusion
In kitchen design, countertops play an important role. They are parts of the kitchen that we use most. Besides, they are more visible than other parts. So choosing the right material which combines best with the kitchen style is important as well as its design. If you are concerned about having a modern with the latest countertop design trends and the right material, Dynasty will help you.
Dynasty Kitchen Cabinet team gives you services in designing and building kitchen cabinetry. Also, DKC is a full-service design and manufacturing company that provides interior design consulting and complete manufacturing of doors, offices, media rooms, wet bars, dining rooms, retails, malls, and medical clinics as well as kitchen cabinets.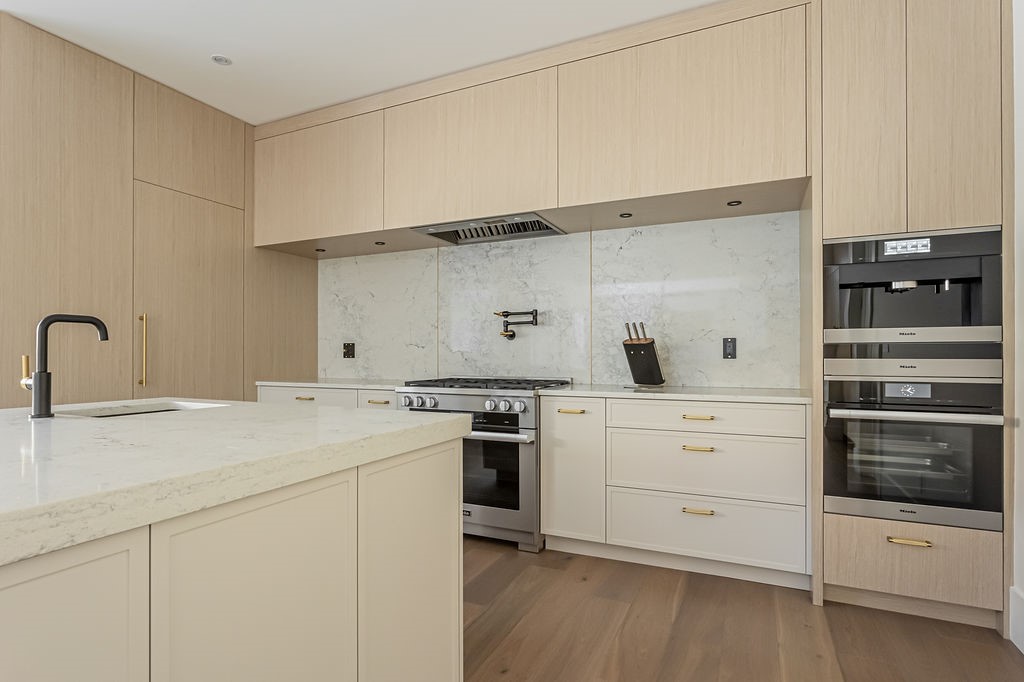 Marble kitchen countertop