What is a Laundry Room?
This space exists in modern homes today. With a laundry room, there is no need to put a washing machine in the kitchen. In luxurious and glamorous kitchens where meals are usually served, it is better to remove the entry of dirty clothes. In addition, the presence of a washing machine in the kitchen creates an annoying noise that can disturb your peace of mind while having coffee in the kitchen.
The laundry room is a separate space in the house, the most important purpose of which is to do things related to washing and drying clothes.
Cleaning and collecting clothes is hard work at home, but you can give help from Dynasty kitchen cabinet to design a stylish and functional laundry room, and convert this work easier and even more enjoyable for yourself.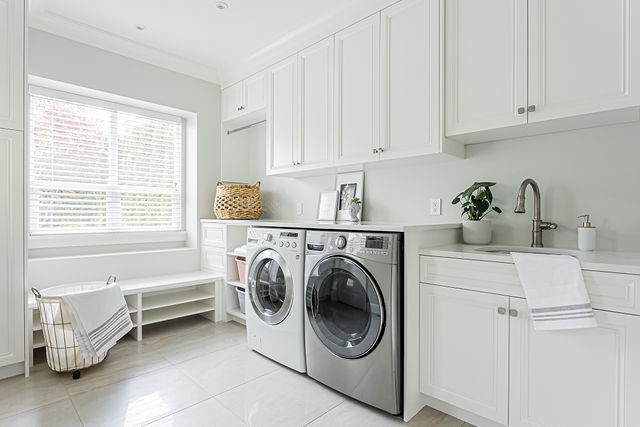 A modern laundry room
Purpose of building a laundry room:
In the laundry room, the washing machine and dryer are usually fixed members. We all have clothes to wash by hand, so it is necessary to consider a sink in the laundry room. You can also use this sink to wash your hands after finishing work.
One of the problems in homes is finding the right place to put ironing and sewing machines. Having a laundry room will end these problems, because you can consider a place for ironing, an ironing table as well as a sewing machine in the laundry room. This is really relaxing.
It all depends on your taste as well as the size of the room. Surely you will be happier to know that in the laundry room it is possible to store all household cleaning items such as vacuum cleaners, towels and napkins, buckets of water and a variety of detergents. In this amazing room you can even store your fishing and travel items such as mats and travel tents. If you do not have such a room, it is better to create it at the first opportunity and invite more comfort to your home.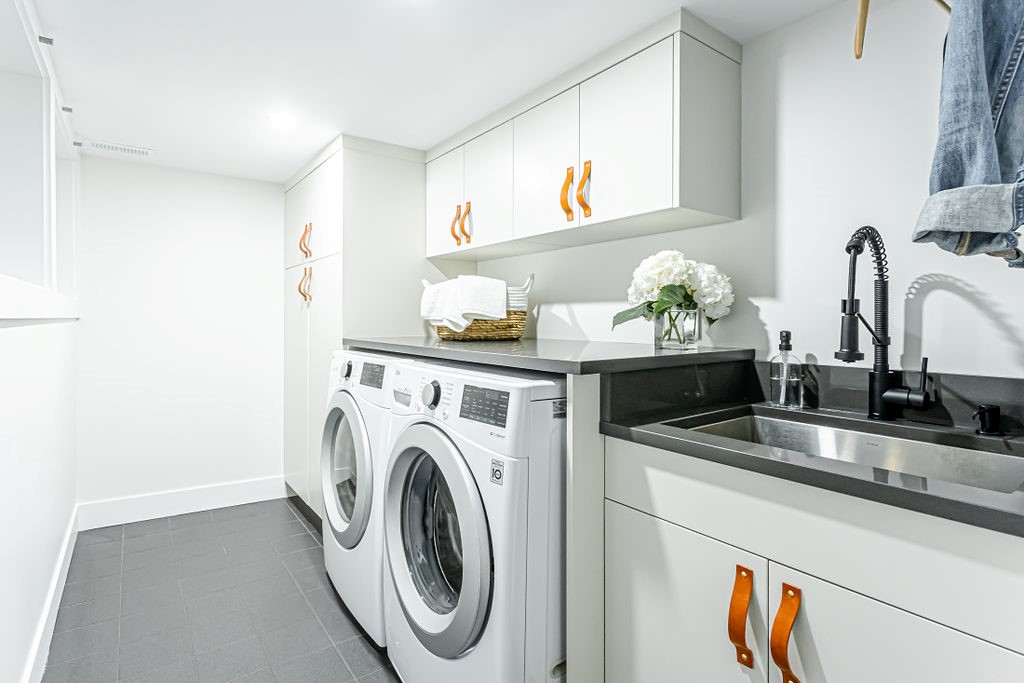 A small laundry room with open cabinets and sink
Making a laundry room:
Before you start building this special room in your home, you have to make important decisions. It may seem like a daunting task at first, but you can get help from Dynasty interior design artist's ideas. An expert interior designer of our company can amazingly consider all the details and design a fully functional and beautiful space for you.
The first step is to decide where to place the room in the house. Think well. Are you a person who loves quiet environments and prefers to study in deep silence, or is the sound of laundry not annoying for you while studying and working? Do you prefer laundry somewhere in the house, such as the end of the garage, and separate from other parts of the house?
If you like to wash clothes with minimal come and go, you can place this room near the bathroom or bedroom.
The next step is to decide what you want to put in the room depending on the size of the room. If you have a large house, consider a large room for it ‌. Do not worry, with small rooms, you can have a dream laundry room. A room where you can feel the wave of life and do cleaning, ironing and repairing your clothes with love.
Dynasty cabinet designers and engineers carefully examine your wishes in all stages of work and with their special professional and organizational skills, they will deliver the laundry room to you with original Canadian cabinets beyond your imagination.
In the next article, we decide to write about the designing the space of the laundry room for you.