custom island design
The island cabinet is a partitioned space in the middle of the kitchen, which is empty around it and has no connection with the rest of the kitchen components. Island cabinets can include various parts such as sink, gas installation, dining table, drawers, etc.
The minimum dimensions required to create an island are 1.5 meters by 1 meter, at a standard height of 90 to 100 cm. Island cabinets have no defined shape and depending on the designer's creativity, they can be rectangular, square, circular and even triangular. The shape of the island cabinet is designed according to the interior decoration of the house and its style, and it can even be used in classic kitchens.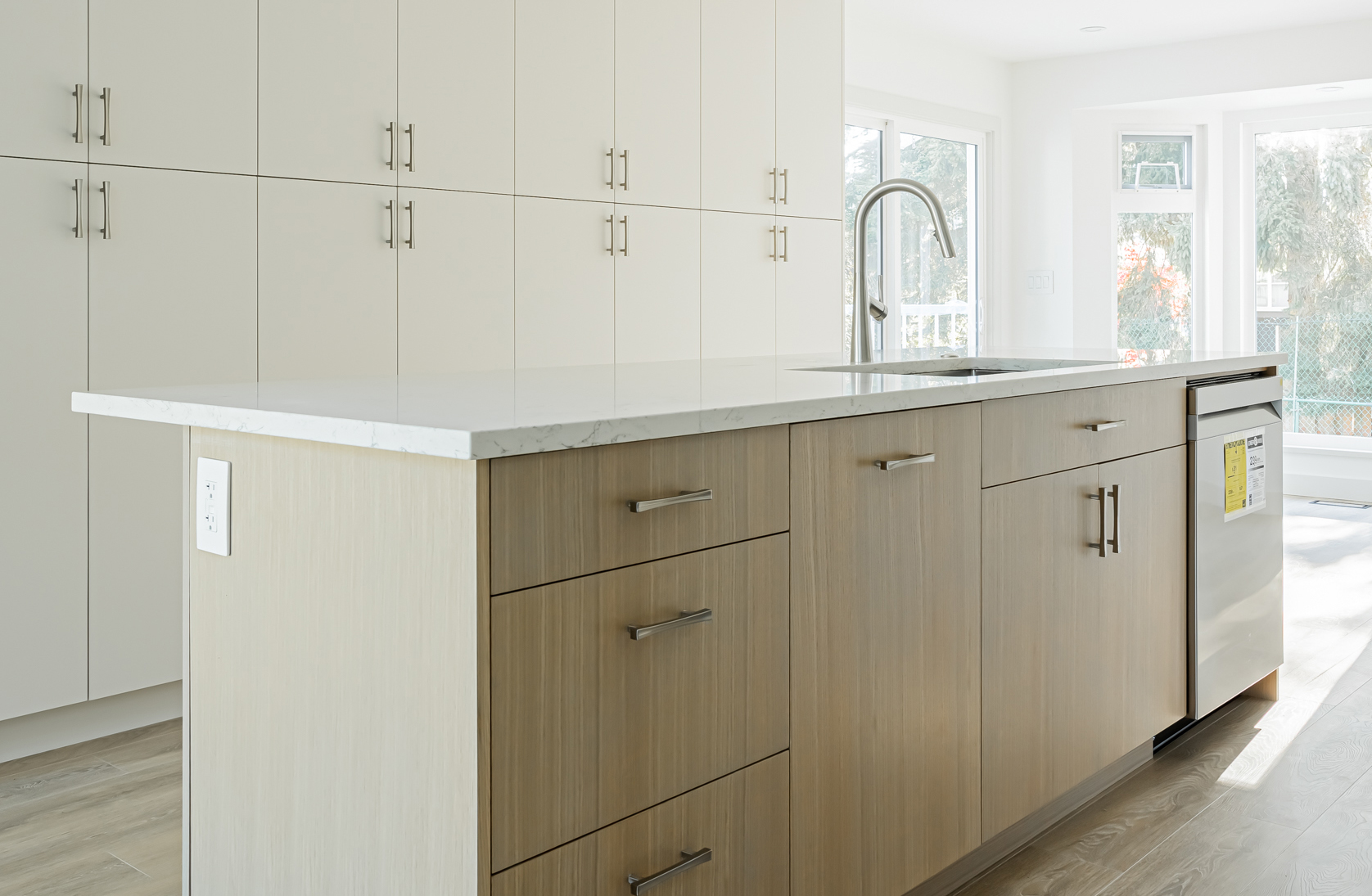 custom island design
How to have your own private Island
Kitchen design is a very specialized work that if not done professionally and accurately, your kitchen will look disproportionate and crowded. A large part of the beauty of the house depends on the professional design and construction of cabinets and kitchen design. Dynasty Kitchen company, having a strong and professional team in the field of cabinet design and kitchen design, makes the best design for your kitchen according to your taste.
Also, this company offers wonderful and completely Canadian ideas in the most beautiful way possible, designing a custom island and renovating a custom hood box. If you want to have a beautiful kitchen with special and wonderful decoration, contact our designers at Dynasty Kitchen company. All our efforts are to get your satisfaction, dear customers.
Beautify the kitchen with a custom island design
The kitchen island is one of the most eye-catching factors in the kitchen space. You can order the kitchen island according to your taste and your desired design and shape. Having a beautiful kitchen can have a good effect on your mood while working or eating in the kitchen. If your family is large, one of the best choices can be a beautiful custom island with lots of seats.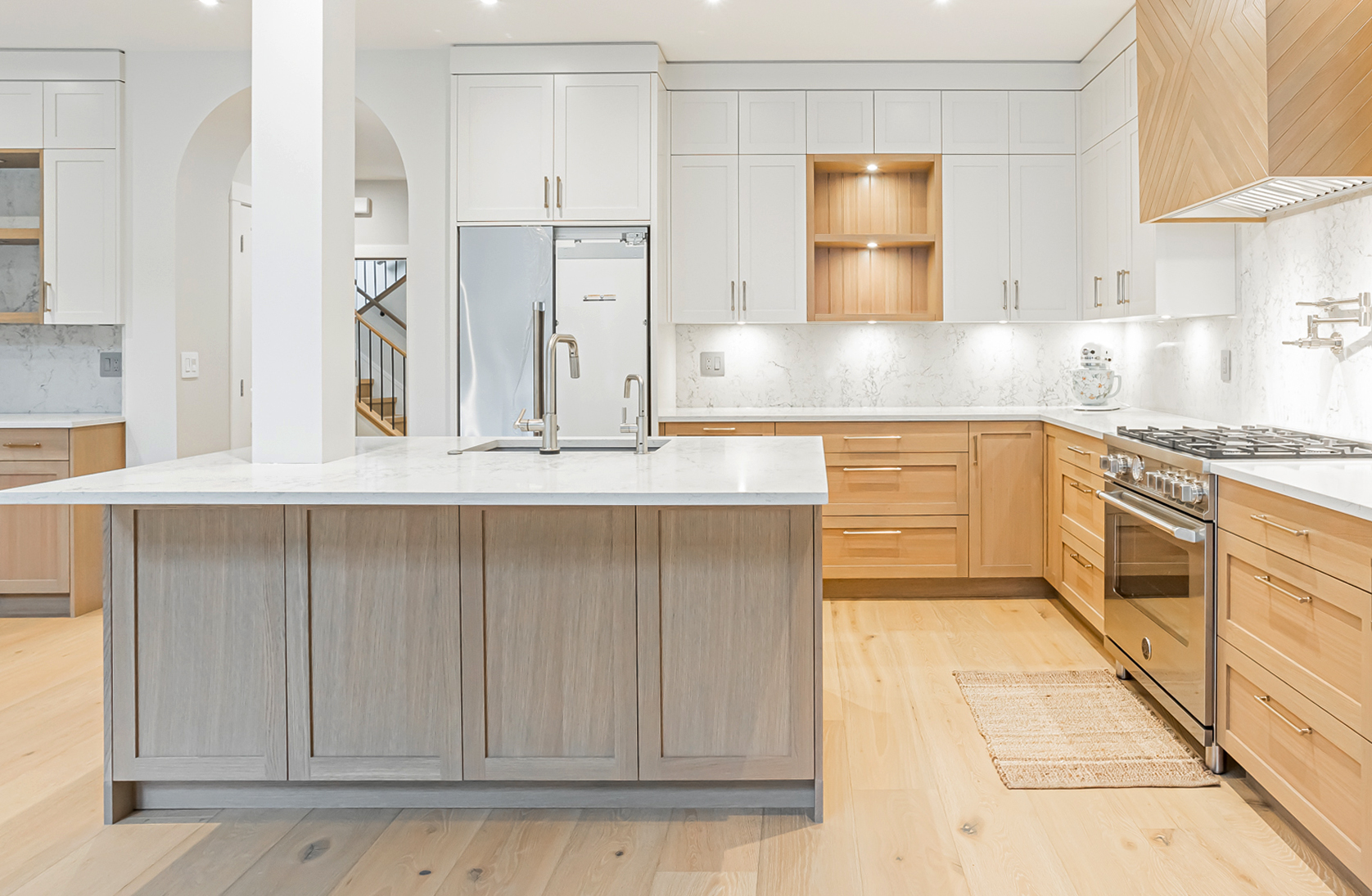 custom island design
Dynasty Kitchen company, with more than 30 years of experience and having expert and professional personnel, designs and implements all kinds of classic and modern cabinet models beautifully. The custom island cabinet is made by our professional cabinet makers according to your desired design and dimensions and is exclusively for It is your kitchen.
Types of Island cabinets
Types of island cabinets can be classified in the following categories:
• In terms of design style, the island cabinet can be modern and classic.
• In terms of efficiency, the island cabinet can be fixed and mobile.
• In terms of material, it can be wooden island cabinet, MDF, membrane, high glass island cabinet, etc.
• In terms of shape, it can be L-shaped and T-shaped.
• Reconstruction of custom hood box along with wall tiles
The biggest advantage we can say about a hidden or built-in hood is less clutter in the kitchen. Installing a hidden hood like hiding the microwave oven and dishwasher helps the beauty of the cabinets. When we hide the kitchen hood, the upper cabinets look beautiful and we give them a glossy look. Installing a hidden hood will be useful for small kitchen spaces. Because people like their simple and small kitchen to look spacious and big.
If you want to go full custom and find a way to creatively blend your kitchen hood with the rest of your kitchen, contact our experts at Dynasty Kitchen company. We use multi-part wall tiles for custom hood designs to creatively combine the kitchen hood with the rest of the kitchen.
Dynasty Kitchen company designs the best and most beautiful design for your kitchen with a special hood design and the use of high-quality wood and quality raw materials. Using the combination of colors will have a great effect on the decoration and beauty of your home. Our professional designers use this very important technique in their designs.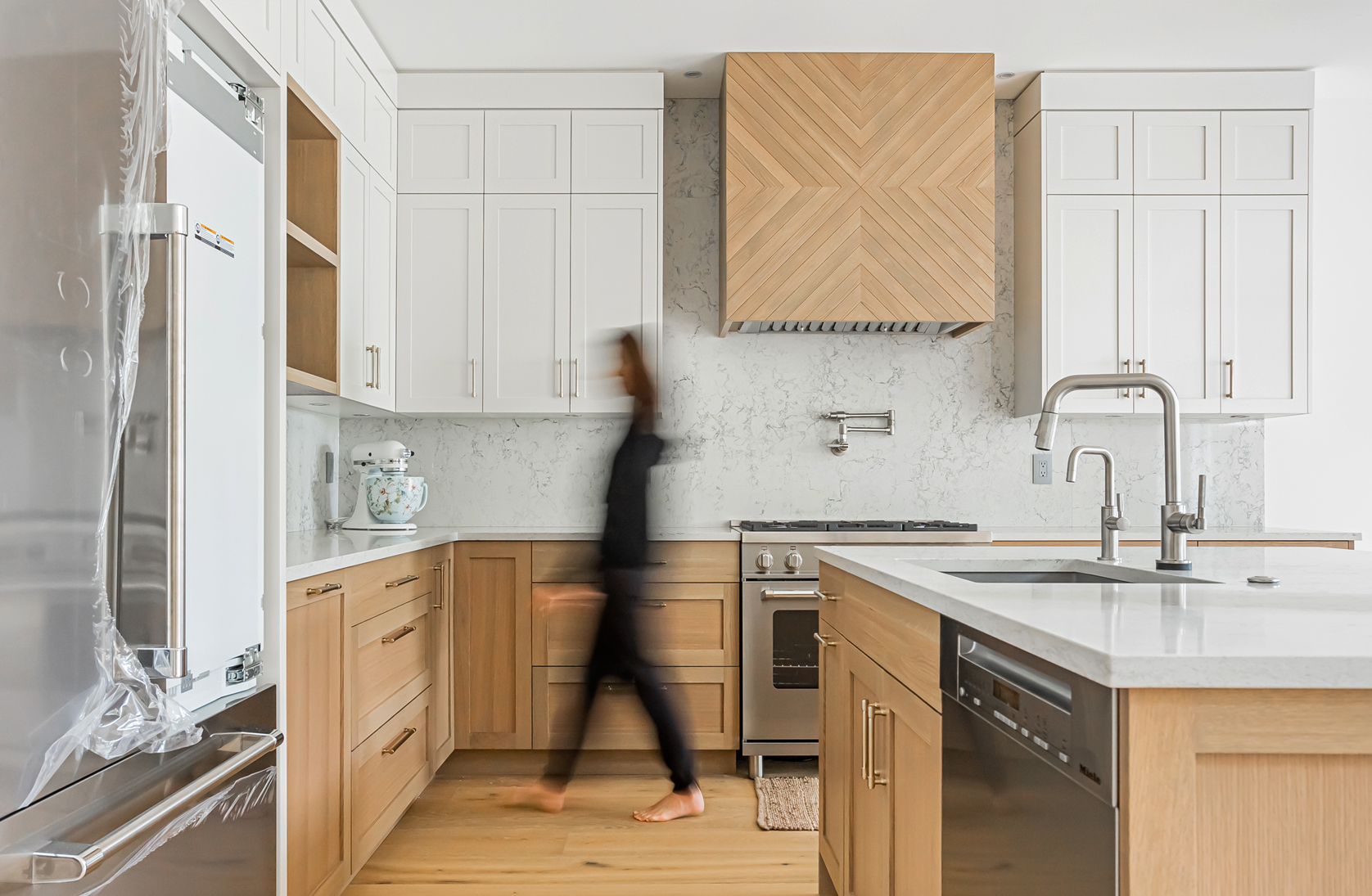 custom hood box
Advantages of using custom island cabinets
The kitchen island provides you with a multi functional and practical space and adds to the beauty and efficiency of your kitchen in addition to easy access. This point may not attract your attention at first glance. But most of the people who design their kitchen in this way mention the easier communication between mother and children to do daily tasks as the best advantage of the modern island cabinet kitchen.
If it is possible to build an island cabinet in terms of area, and this cabinet is designed properly, it can be a place for family members to gather and do various work, study, etc. Also, the external beauty of the island cabinet and its variety of shapes and types and the high potential of creativity in design, allow you to create contrasts and different dimensions.
Again, we say to have an attractive island, consider your kitchen space first and go to a professional designer thinking about your kitchen space and shortcomings. In the end, we hope that the tips that we have said will help to make your home and the heart of your home as beautiful as possible.
You can also contact us if you have any questions or requests for help in personalizing and designing and making the best cabinet on the island. Our experts at Dynasty kitchen company are ready to answer all your questions. Thank you for accompanying us until the end of the article. To view our other articles, visit our blog at https://dynastykitchen.com/blog-2/